Energy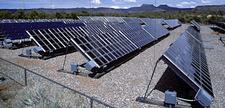 Solar array at Natural Bridges National Monument
See also Oil & Gas
At present the production of energy resources in southeast Utah is not a robust industry, nor is it innovative or reslient, except for a few scattered solar arrays on private homes and public facilities. There is a uranium ore reduction mill near Blanding that sits idle most of the time, and a few oil and gas wells near Moab and Bluff that are more annoying than productive.
However, energy products from other places pass through our convenient corridors everyday in the form of trucks, pipelines and transmissions lines, which may or may not increase, dependending on the implementation of various national policies.
Very soon things could change here, as two controversial steam-powered (thermal), electric generation stations near Green River City have been proposed. One proposal includes a nuclear reactor and the other a coal-gasification plant.
These additions to the national power grid would be necessary to meet traditional energy production demands for other proposed projects near our watershed. For example, to extract oil and gas from the huge oil shale reserves found to the immediate north in the Uinta Basin.
Uranium ore extraction is another troubling development for our community.
Such energy development will wreak havoc on the scarce water supplies of the Colorado River and destroy what watershed integrity yet remains.
The Canyonlands Watershed Council supports energy development that does not engage in the use of fossil and nuclear fuels.
WEBSITES
Alternatives
Federal
State
City
Corporate

Non-profit
Nuclear Power Plants
REPORTS
/farcountry