Oil (Tar) Sands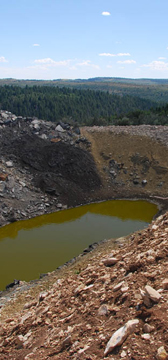 Tar Sands Grand County
Oil shale and tar sands remains a speculative industry in the arid lands of the Colorado Plateau. A general lack of water is why the industry will never be viable. Even if alternative chemical washes are used to separate bitumen from sand, for example, it still requires 1.5 to 2 barrels of water to refine a single barrel of synthetic crude. What this extraction will accomplish is physical damage to the Colorado River watershed, which supplies culinary water to nearly 30 million people. It will also create more CO2 in the atmosphere, which is the #1 killer of the Rocky Mountain snowpack, which provides 85% of the Colorado River's total annual water supply. Our watershed needs investors to create a reliable energy supply that will heal the water supply of the Colorado River, not destroy it.

LATEST UPDATES
September, 2017 - US Oil Sands declares receivorship in Canada and bankruptcy in USA
Independent Technical Memorandum: Greenhouse Gas & Water Footprints of Oil Shale & Tar Sands Resources & Projects in the Upper Colorado River Basin. 2018, EcoShift. The Executive Summary of this report is HERE.
December, 2016 - Activities report and water quality testing results
November, 2016 - US Oil Sands must apply for a federal contract to appropriate water. Order of the State Engineer; US Oil Sands water right records: 49-2274
November, 2016 - US Oil Sands 3rd Quarter Report: USOS does not have sufficient capital.
###
CLICK HERE to read this color booklet created by Living Rivers and the Colorado Riverkeeper
CLICK HERE to read this investor analysis of US Oil Sands. Seeking Alpha.
CLICK HERE to read information about the Programmatic EIS for oil shale and tar sands in Wyoming, Colorado and Utah
CLICK HERE to watch the first documentary about Utah unconventional fuel called Last Rush for the Wild West: Tar Sands. Oil Shale and the American Frontier.
Read this article about strip mining tar sands in Grand County
To SUBMIT A LETTER of concern to Utah Division of Oil, Gas and Mining click here
____________________________________

INVENTORY OF TAR SAND DEPOSITS IN UTAH
State Land (SITLA)

141,020 State Trust acres on which tar sands are known or expected.
52,887 State Trust acres under lease for tar sands
A typical lease lasts 10-years
Only a very small part of the above acres could be surface mined
US Oil Sands Contract Report. SITLA.
Federal Lands (BLM)

NOTE: there are no tar sands in Colorado or Wyoming.
2008 - Total identified is 430,686 acres
2012 - The proposed preferred alternative identifies 91,045 acres
RECORD OF DECISION (Issued March 22, 2013)
____________________________________
AMERICAN SANDS ENERGY (West Tavaputs Plateau near Mt. Bruin)
____________________________________
ADMINISTRATIVE RECORD OF UTAH DIVISION OF OIL, GAS & MINING (UDOGM)

Username and password is: ogmguest

ADMINISTRATIVE RECORD OF PROPOSED STRIP MINING @ PR SPRINGS
US Oil Sands (Utah) Inc., (formally Earth Energy Resources)
ADMINISTRATIVE RECORD OF UTAH DIVISION OF WATER RIGHTS @ PR SPRINGS (State Engineer)

Water Right for US Oil Sands 49-2274 (a33805)
Other water rights (adjacent to proposed mine @ 4.5 gallons per minute)
Additional water well information (state and federal)

ADMINISTRATIVE RECORD UTAH DIVISION OF WATER QUALITY (DWQ) for PR SPRINGS

TRANSCRIPTS OF HEARINGS FOR PR SPRINGS STRIP MINING OPERATION
ADMINISTRATIVE RECORD OF ENVIRONMENTAL PROTECTION ADMINISTRATION (EPA)

Air Quality at Proposed PR Springs Mine
____________________________________
ASPHALT RIDGE MINING OPERATIONS (near Vernal, Utah)
Crown Asphalt Ridge (CAR) Korea Technology Industry of America (Defunct)
MCW Energy Group @ Asphalt Ridge
____________________________________
AIR QUALITY
2013 - Air Quality in the Industrial Heartlnd of Alberta Canada and Potential Impacts to Human Health. Simpson et al.
____________________________________
ARCHEOLOGY
____________________________________
BUREAU OF LAND MANAGEMENT
Paving Seep Ridge Road in Uintah County

2008 Oil Shale & Tar Sands Programmatic EIS
____________________________________
CORPORATE WEBSITES
Korea Technology Industry of America (Defunct)
Wentworth Energy (Asphalt Ridge tar sands)
____________________________________
DOCUMENTS
____________________________________
ECONOMIC VIABILITY
____________________________________
ENDANGERED AND THREATENED SPECIES
____________________________________
GEOLOGY
Oil Shale and Tar Sands web page. Utah Geologic Survey.
Tar Sands Bibliography (2009). UGS.
USGS publications library
Geologic Bibliography
GROUND WATER
____________________________________
____________________________________
MAPS & GIS
Google Earth

PR Springs
Green River Refinery (proposed) (click here)
SITLA
University of Utah
Other
____________________________________
NEWS
____________________________________
NON-PROFIT ORGANIZATIONS
____________________________________
PHOTOS
Aerial Photos
Satellite Images
____________________________________
TRADE ASSOCIATIONS
____________________________________
UNIVERSITY
____________________________________
USGS
____________________________________
UTAH GOVERNMENT
____________________________________
VIDEO
____________________________________
WILDLIFE
Southest Utah (includes East Tavaputs Plateau)